Andrew Patel Is Coming...
I will soon have some new independently-published material for the Kindle posted soon on my Amazon.com author page.

Here's some back story. Last year (or perhaps earlier), my Kennesaw writing group discussed a "Southern Superheroes" anthology that ended up not going anywhere. However, before its implosion became clear, some of us had written stories. My contribution was two tales starring Andrew Patel, a Nietzsche enthusiast anti-hero who thinks transcending the merely human translates into making himself a cyborg.

(Hint: His is a situation of "a little knowledge is a dangerous thing" as far as Nietzsche's philosophy is concerned.)

Given how I've done some research and found that superhero short fiction is a hard sell these days and how I've been told the way to succeed at independently publishing short stories for e-readers is "churn and burn," Mr. Patel will be making an appearance soon.

In the meantime, I'll leave you with the covers for Übermensch and "Needs Must," courtesy of Alex Claw, illustrator of The Beast of the Bosporus: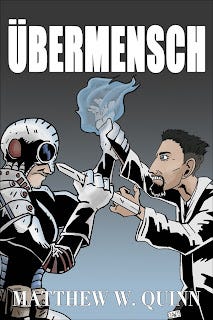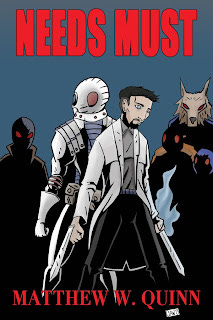 Depending on how successful these are, Mr. Patel will be making more return appearances. Today I came up with a new potentially recurring (worse) villain for him to face.