Discover more from The World According To Quinn
My writing and thoughts on film, science, politics, and other topics of note.
Apex Publications Is Having Big-Time Sale
The other day, I spotted a blog post saying that speculative fiction stalwart Apex Publications is "retiring" 42 titles and was offering a substantial discount until the end of January Given Apex's importance to the small-press scene and the business I've done with publisher Jason Sizemore, this was somewhat concerning, so I checked it out.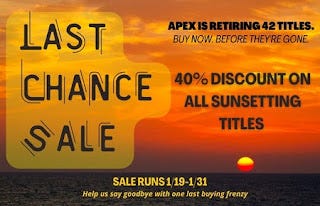 It turns out that Apex is reverting the rights to many of its older titles to their original authors, to "trunk" or republish as they see fit. Apparently they're not generating enough money to cover the administrative costs of maintaining them, paying the writers, etc.
From a business perspective, this makes sense. I've looked over the list (more on that below) and a lot of them seem to be short-story collections or shorter works. Collections are generally not strong sellers--on Amazon I've sold three copies of Flashing Steel, Flashing Fire in the last six-odd weeks in comparison to five sales of The Thing in the Woods and three sales of its sequel The Atlanta Incursion. And that's fairly unusual--Thing, TAI, and Battle for the Wastelands typically sell at least all right, while FSFF languishes. This is even more blatant at conventions, where I move lots of novel-length works but few copies of FSFF, my novella Little People, Big Guns, or, in recent years, The Best of Heroic Fantasy Quarterly Vol. 2. I put all of my shorter work (with the exception of Battle prequel "Son of Grendel") on Draft2Digital for wide release and only "Ten Davids Two Goliaths" and "Discovery and Flight" (both set in Lindsay Buroker's Fallen Empire universe) seem to sell.
Since I'm a one-man show without any authors to continue to pay or actual employees (the artists, designers, etc. are all contractors), keeping FSFF and the other shorter works available for purchase is no big deal. However, if for every sale I had to do the paperwork, royalty computation, etc. for multiple authors, that wouldn't be worth the minimal return I get. However, I do have to store my convention stock and the fewer boxes sitting around my apartment the better.
I took a look at the books on the Apex list and here are some that interest me. Appalachian Undead is a collection of zombie stories set in, well Appalachia. It leads with a story entitled "When Granny Comes Marchin' Home Again," which is certainly attention-grabbing, and even has another story alluding to a John Denver song. Harlan County Horrors operates in a similar vein, with lots of ugly doings in coal country. Breaking The World is about what might happen if the apocalypse actually started during the siege of the Branch Davidian compound in Waco and certain sounds interesting. HebrewPunk is a group of short stories or novellas featuring characters based in Jewish tradition, culminating in all of them joining forces for a heist. Kentucky Kaiju is a Dungeons and Dragons-style monster manual for large creatures inhabiting Kentucky of all places. Severance is about the mishaps that can befall a generation ship bound for another star system. Stay Crazy has a pretty interesting concept--is this woman insane, or is there a being from another dimension recruiting her to fight another extradimensional being? Starve Better by Nick Mamatas is about the writing life; I already own it, but it's been awhile since I've read it. To Each Their Darkness and Yours to Tell also books about the craft of writing, and I'm seriously considering snagging that one while I still can.
My to-be-read pile (including several library books that might lead to fines) is pretty substantial as is, so I'm not sure which of these I'll actually purchase when all is said and done, but those all sound cool. However, if you're interested in helping out someone who's helped me, Sizemore has done a lot for my independent novelist career, including editing Battle back when I was still pitching it to publishers, connecting me with cover designer Mikio Murikami and laying out and assembling some very well-designed e-books.