BATTLE FOR THE WASTELANDS Cover Phase Two
Here's the current status of the cover for my forthcoming independent military fantasy Battle for the Wastelands. Artist Matt Cowdery says it's about halfway done.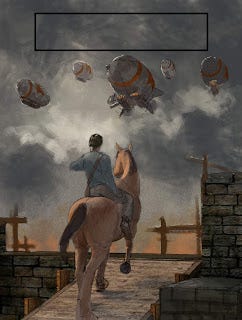 So far so awesome. Seriously, it's going to look great when it's done. The horseman needs his rifle (probably a Spencer repeating rifle from the American Civil War) as well as a saddle and saddlebags and a cowboy hat to signal to readers that this is a Western (or at least Western-ish). I also had some quibbles about the placement of weapons on the airships' gondolas, but those are relatively easy fixes.

Definitely looking forward to the next update!