Discover more from The World According To Quinn
My writing and thoughts on film, science, politics, and other topics of note.
FREE Supervillain-Protagonist Story on Thanksgiving and Black Friday
For Thanksgiving and Black Friday 2016, I've made my short story "Ubermensch" FREE. Those of you interested in superheroes, supervillains, villain-protagonist stories, and diversity in speculative fiction (lead character Andrew Patel is Indian-American) should take a look.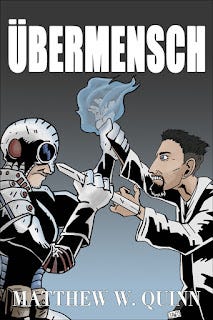 (Alex Claw has illustrated many of my Amazon stories, which can be found here. I think "Ubermensch" is the best cover. Here's his DeviantArt account if you're looking for an artist.)

And now for some background you might find interesting. I first started writing "Ubermensch" sometime in 2011. I published it independently on Amazon in early August 2013, with the sequel "Needs Must" appearing just under two weeks later. I've got a lot of potential stories to tell with this character, as the fact I've made it a series on Amazon indicates.

If you read the story, please leave an honest review, good or bad. I've got a cover made and a fourth (but not a third) story written for a four-story Andrew Patel collection. If and when it goes up, it will tie Andrew Patel and his world in with my Lovecraftian novel The Thing in the Woods. But I'd like to know if there's sufficient interest first.

Here's the cover for the planned collection for those who'd like to know more: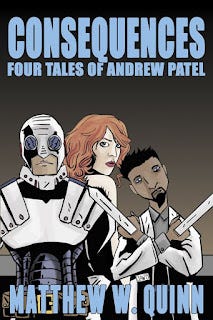 Alex did this one too.