Book Review: "Tears of the Sun" (SPOILERS)
Just finished S.M. Stirling's The Tears of the Sun, the newest novel in the Emberverse.  Here's my review...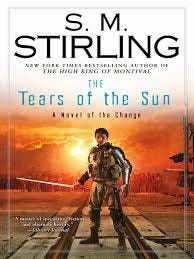 The Good

*It was an enjoyable book and a fairly quick read.  Always a plus.

*Stirling clearly put a lot of care into the development of minor characters.

*I liked how the Boisean light cavalry gets lured into a trap with the prospect of sheep to steal and gets jacked.

*Good commando raid into Boise and the price that is paid for victory.  Not going to say who, but the cast from the first books is starting to get mighty thin on the ground...

*Nice cliffhanger ending to set up the next book, Lord of Mountains.

The Bad

*Too much description of the food and how it tastes.  I recall the description of the taste of cured meat coming up many times.

*Rudi MacKenzie, Mathilda Arminger, etc. kind of disappear for a long time.

*Too much time, including multiple flashbacks, spent on Mary Liu's treasonous dealings with the Church Universal and Triumphant and how they're exposed and dealt with.  It was good to meet Odard Liu's other siblings and they do get a lot of development for characters introduced (I think) in this book, but still.  I think a lot of this could have been cut from the book and been replaced with battles.  See below...

*We see Rudi and company gathering for war and we later having Tiphaine d'Ath's Mary Liu flashbacks interrupted by the need to assist Rudi and friends organizing a "fighting retreat."  The campaign and the battle that forced Montival's army to retreat don't get described at all.  This is in marked contrast with the Pendleton campaign of the earlier books, in which the campaign and its aftermath make up a significant chunk of the book. 

Given the book jacket's blurb about how Rudi knows he might die in the fight against the Church Universal and Triumphant, depicting him having a close call in a battle we see onscreen would have been awesome.

The Verdict

A good book, but Stirling can do better.  6 out of 10.