My FALLEN EMPIRE Novellas Are Now Wide!
I'm a regular listener to The Science Fiction and Fantasy Marketing Podcast and one of the regulars on the show is Lindsay Buroker, author of (among other things), the Fallen Empire series. When she announced that Amazon's now-defunct Kindle Worlds program had picked up her work, I wrote two novellas featuring original characters set before the main events of the story--"Ten Davids, Two Goliaths" and "Discovery and Flight" and helped contribute to the KW story bible. I even created a TVTropes page for the series and wrote a lengthy comparison of the fictional world to the Arab Spring. KW eventually shut down, but Buroker allowed all of us to re-publish the stories through Kindle Direct Publishing.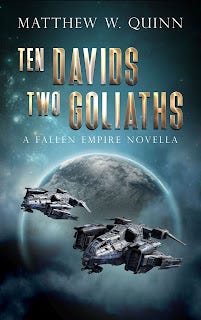 The first one, which introduces the original characters
Geun Choi and Tamara Watson and features some of my ideas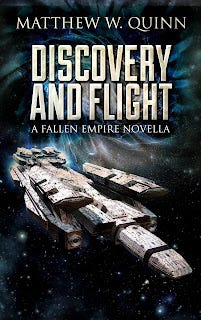 The second one, in which I include the canon characters
Alisa Marchenko (the main series protagonist) and Bradford
Tomich. It also shows how my space-fighter tactics could 

On an episode of the podcast, Buroker and the others discussed how a good time to go wide-release (i.e. to leave the Amazon-exclusive Kindle Unlimited program and sell on other online platforms) is once the KU "borrow" money stops coming in. Although I've made a couple novella sales this past month, I haven't gotten any KU borrows in quite a long time. Buroker has apparently already moved on; the Fallen Empire novels are no longer in KU on Amazon and are available for purchase in other online markets. Here's Kobo, for example, which has a massive presence in Canada, Europe, and Europe-linked countries like South Africa. Although I couldn't immediately wide-release my novellas (you can only opt out of KU every 90 days), I decided I would follow her into wide when I could.

Well, the KU period ended earlier this week, so here's the Universal Book Link for "Ten Davids, Two Goliaths" and "Discovery and Flight." They're available (or will soon be available if they're not up yet) via Kobo, Bibliotheca, Tolino, Overdrive (which means a lot of libraries), Apple, Baker and Taylor, Barnes and Noble, Playster, Scribd, Australian biggie Angus and Robertson, and 24 Symbols.

Enjoy!